What You Can Get Tax Free This Weekend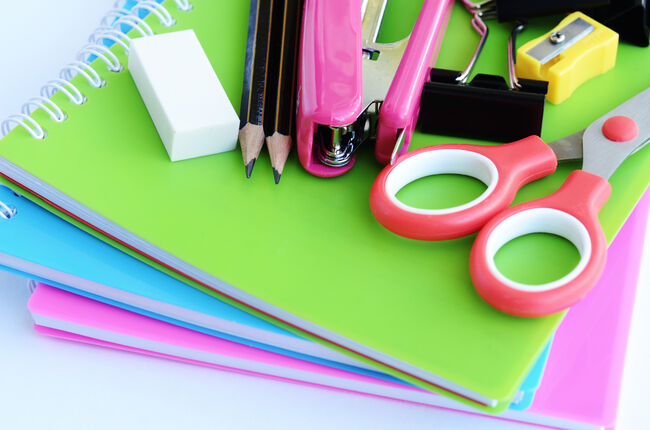 Virginia will be hosting its annual tax free weekend on August 3-5, 2018 and you can get more than school supplies tax free this weekend.
Virginia.Gov refers to a school supply item as "an item that is commonly used by a student in a course of study." This does not include computers. Items that are less than $20 are exempt from tax. They do not need to be purchased for school use to be eligible for exemption.
This list includes: binders, book bags (keep in mind the $20 rule), calculators, composition books, computer storage media (tax free flash drives anyone?), crayons, dictionaries, disinfectant wipes, erasers, folders, glue, highlighters, index cards, markers, instruments, notebooks, paper, pencils, pens, rules, scissors, sheet music, textbooks, tissues, and more. For a complete list, please visit their site.
Clothing is also on the list. Their definition includes stuff that can be worn everyday. Sporting equipment or footwear designed primarily for athletic activity or protective sue does not count. Items must also be under $100 to be exempt from sales tax. While the list isn't all-inclusive, they've included a list on their site.
You can also use the tax free weekend to restock your Hurricane Preparedness kit. Items that will be tax free are separated into several categories. Some of the following items qualify is they are $60 or less: batteries, reusable ice, portable radios, 2-way radios, duct tape, carbon monoxide and smoke detectors, gas tanks, water storage containers, bottled water, manual can openers, cellphone charges, first aid kits.
Portable generators, inverters and inverter power cables, and photovoltaic devices are exempt if they cost $1,000 or less.
Chain saws and their accessories are also exempt.
For a list of hurricane perpardness items, please visit their site.
The third category that qualifies is Energy Star and WaterSense items that cost 2,500 or less and are for noncommercial or personal use. These include: air conditioners, ceiling fans, dehumidifiers, washing machines, dishwashers, light bulbs, and refrigerators. For a complete list, visit their site.